The Allergen Bureau's 11th Annual General Meeting and Member Meeting, a significant gathering in the food industry's calendar, took place on October 26 in a hybrid format at the NSW Food Authority in Newington. The event provided a platform for robust discussions and insightful presentations with three keynote speakers joining our member meeting:
Alan Edwards – Enforcement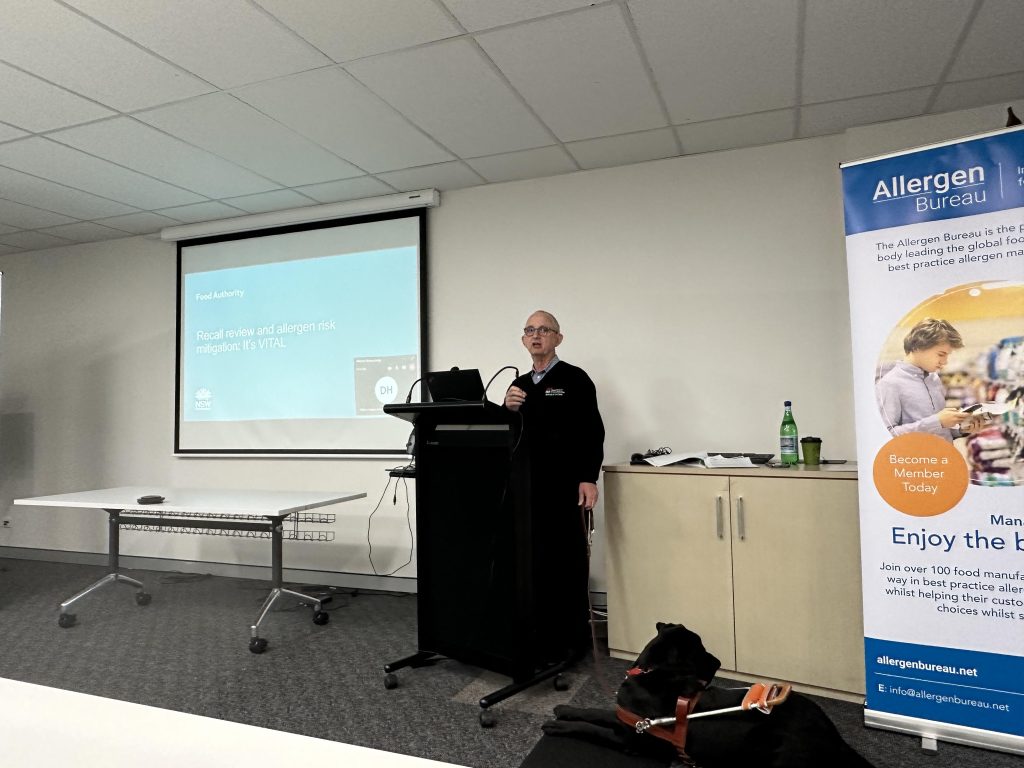 Alan Edwards, representing the NSW Food Authority, presented a thought-provoking session, emphasizing the intricacies and challenges surrounding allergen management, particularly from an enforcement perspective. Alan shared key insights into recall statistics, highlighting the allergens that frequently trigger recalls, including milk, peanut, gluten, and almond. He noted that in many instances, recalls occurred due to the presence of multiple allergens. Alan challenged the attendees, that given the root cause of some recalls was cited as "packaging error", packaging application should be a CCP.  He provided a case study of how the implementation and use of the VITAL® program can demonstrate due diligence in assessing a precautionary allergen labelling outcome by an organisation.  The organisaton manufactured a product which contained a cross contact allergen, that had caused a mild reaction in a consumer, but did not carry a PAL.  The NSW Food Authority, after review was satisfied that the possibility of unintentional allergen presence had been appropriately risk assessed, that the label was appropriate, and that no further action was taken.
Penny Dellsperger – Oats and Coeliac Disease – New research
Penny Dellsperger, from Coeliac Australia, addressed the critical topic of oats and their place in the diet for those on a Gluten Free diet. She introduced the Oat Avenin Dose Response Feeding Study, a significant research initiative, and discussed the complexities of oat food labelling. With different standards overseas, the absence of legislated PAL, and a lack of legislation regarding uncontaminated oats, the labelling of oats in Australia is far from straightforward. Penny underscored the need for individualized approaches when dealing with oats for people with Coeliac disease. She advocated that these approaches be undertaken in collaboration with a dietitian and underscored the importance of careful monitoring and targeted consideration in each case. Additionally, the conversation touched upon the significance of education, especially concerning wheat-free claims that are valuable to those with wheat allergies, despite their limited relevance to individuals with Coeliac disease or adhering to a gluten-free diet. 
Simon Brooke Taylor – Navigating the ED05 Transition
Dr Simon Brooke Taylor, VITAL Scientific Expert Panel member, and member of the Ad hoc FAO/WHO Expert Committee, led a highly informative and invaluable discussion on the ED05 transition following recent FAO/WHO meetings. His presentation addressed frequently asked questions and provided much-needed clarity on the transition, opening the discussion from the members on the science supporting the move to the new ED05 Reference Dose.
In closing, the 11th Annual General Meeting was marked by its valuable insights, expert presentations, and substantive conversations, making it a significant event for all involved. We extend our appreciation to all members who attended, both in person and virtually, for their valuable contributions to these important discussions. We look forward to sharing more insights and knowledge from this event soon. We would also like to thank the NSW Food Authority for providing the venue and their support during the day.