Online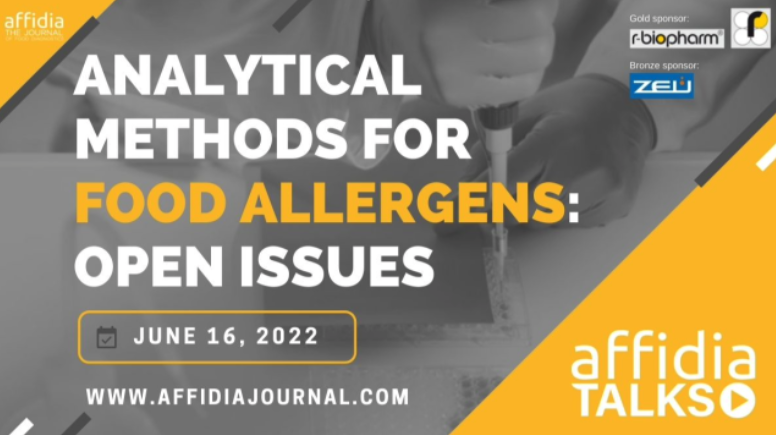 Undeclared food allergens are among the most frequent cause of food recalls and alerts. Food industries invest quite a lot of resources to assess and manage the risk of allergens, still, incidents happen. In 2021 Affidia hosted a panel to discuss with several experts the whole topic (the video of the event is available at https://affidiajournal.com/en/food-allergen-risk-management-breaching-the-gap).
This time we are going to focus on the analytical issues, considering that it is unlikely that the regulatory scenario will change soon. Several international institutions or think tanks published even recently new guidelines about the management of food allergen risk (WHO, ILSI), but in the end industries and laboratories have to choose an analytical method, to guarantee results are consistent in the day-by-day use, to get the accreditation and to communicate the results in an understandable way. Regulatory authorities neither decided which are the threshold doses nor standardized the reference materials to be used as calibrators in the analytical methods. In the academic world, there is a growing trend to suggest LC-MS/MS as the confirmatory method for food allergens, but for the moment ELISA and PCR are considered methods that do not require any confirmation, providing the test has been accredited.    
The format
We do not like classic webinars: 80-90% of the time is occupied by long slideshow presentations, something that people can watch at any time on-demand. A live event makes sense if the organizers can gather experts and professionals that report their experience and discuss the topic, not just because there is a short Q&A section at the end. This is why we created "Affidia Talks", real live discussions stimulated by facts and witnesses in a video introduction.
Commercial communications will be clearly shown as such, interviewed stakeholders will not advertise any product or service and the panellists are totally independent high-level experts.
Who should attend
This event will be very useful for safety and quality managers of the food industries, retailers, and public health authorities. It is also a unique opportunity for test kit manufacturers and sellers to learn more about the troubles their customers are facing.
Panellists:
– Prof. Joseph Baumert (University of Nebraska-Lincoln)
– Dr. Bert Popping (FOCOS)
– Piotr Robouch (European Commission, Joint Research Centre)
– Mark Sykes (Fera Science Ltd.)
– Cesare Varallo (Food Law Latest)
– Prof. Michael Walker (University of Belfast)
Contributors:
– Samuele Asnicar (Agrolab)
– Nicola Bortoletto (Generon)
– Federica Cattapan (Mérieux Nutrisciences Italy)
– Elena Dominguez (ZEU)
– Jasmine Lacis-Lee (Allergen Bureau)
– Anthony Lupo (Neogen Corp.)
– Adrian Rogers (Bio-Check Ltd.)
– Stefan Schmidt (R-Biopharm)
– George Siragakis (Food Allergens Labs)
– Stefano Zardetto (Voltan)