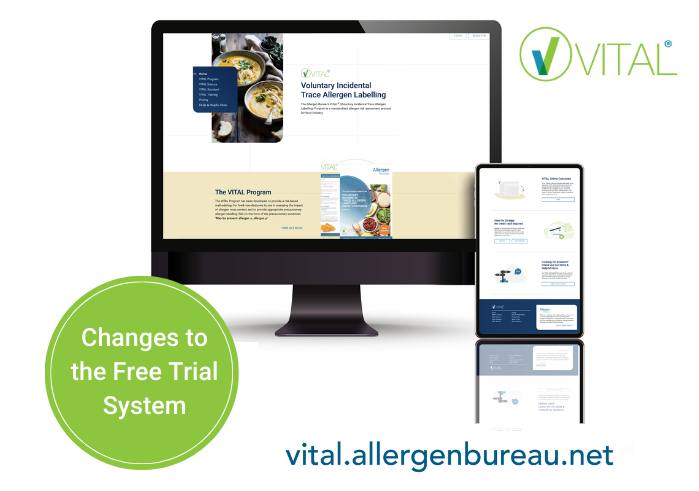 In the upcoming months, the Allergen Bureau will introduce changes to the VITAL Online Free Trial system.
The new format of the free trial will allow users to interact with the system, gaining an understanding of its functionality by entering ingredients, recipe details, and processing profiles. However, any generated labelling outcomes will be provided as samples only and will not be based on the input data. In addition, some other features will only be accessible in the paid version.
The Allergen Bureau is deeply committed to its mission of leading the global food industry in allergen management best practices. Appropriate implementation of the VITAL Program can assist in reducing business risk and add to brand integrity as consumers start to seek products that have been risk assessed (with or without a PAL).
 The core philosophy of the VITAL Program includes:  
Eliminate
Reduce
Control
Risk Assess and
Label, if required
We urge organisations to become familiar with the system and to also seek training from our dedicated training providers before generating an outcome.  This will ensure that your business gains the full benefits of the VITAL Program. 
We recognize the necessity for cost management within the industry, as we too face similar pressures.  We therefore felt the need to respond to organisations who were repeatedly accessing the free trial option to generate outcomes.   The Allergen Bureau operates as a not-for-profit organisation, with revenue directed towards maintaining alignment with cutting-edge science and ensuring the system's security and functionality within a dynamic IT landscape.  We appreciate your understanding.