Philip Hill, General Manager of r-biopharm Australia is delighted to confirm their long standing partnership with FAMS and once again take the platinum sponsorship position at the 2023 symposium, an association they are proud to have had since the inception of FAMS.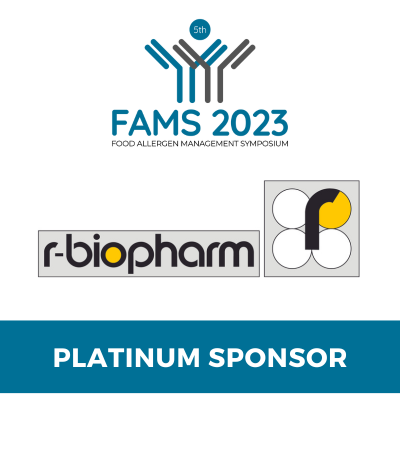 "This partnership shows the similar qualities that exist between the two organisations. FAMS and r-biopharm have a mandate to support and continue the education and awareness of Allergens and the presence they play in our community" says Philip Hill.
Demonstrating how they keep pace with new technologies, platforms, and updating existing test methods and techniques, r-biopharm will showcase at FAMS 2023, the new update on the popular lateral flow Allergen testing strip. The new product range will now include a "hook line" to make it more usable by ensuring the false negatives are removed and the operator is alerted to the presence of an overwhelming amount of unsuspecting allergen in a sample. r-biopharm will also showcase its comprehensive portfolio of PCR Allergen reagents combined now with its mini automated Ridacycler analysis system to make PCR more available and easier to use.
The FAMS Organising Committee look forward to welcoming r-biopharm and all of our wonderful sponsors to FAMS 2023.
To register for FAMS click here.
* We've included this piece on behalf of the FAMS Organising committee. The Allergen Bureau works with many passionate and professional members who provide services to support our wonderful industry. We are grateful to all who support the vision of a trusted food supply for allergenic consumers around the world.